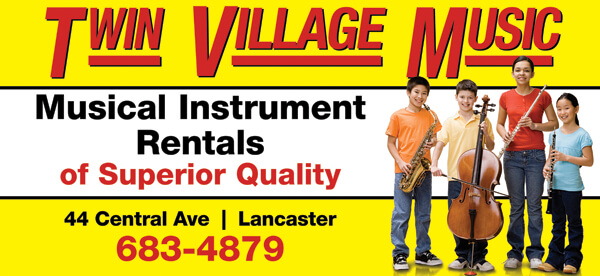 Twin Village Music offers rentals for students playing in school band and orchestra. Instruments available include Oboe, Piccolo, Flute, Clarinet, Bass Clarinet, Alto Sax, Tenor Sax, Trumpet, Trombone, Rotor Trombone, Single & Double French Horn, Baritone Horn, Snare Drum, Bell & Drum Kit, Violin, Viola & Cello. Sorry, but we do not rent bagpipes. We use Name Brand instruments of Superior Quality. We are an authorized dealer for Armstrong, Bach, Conn, King, LeBlanc, Ludwig, Selmer, Yamaha and more!
ON-LINE RENTAL RESERVATION & DELIVERY TO SELECT SCHOOLS
Most people call to reserve their rental and then pick up the instrument in store.
We would love to have you visit our store.
For your convenience, we offer free delivery of rental instruments to the following school districts:
Amherst, Attica, Cleveland Hill, Frontier, Grand Island, Hamburg, Holland, Orchard Park, Pembroke  & Williamsville
Through this portal parents may also order supplies for Beginning Band Students In Clarence
Click below to start the on-line rental process to have your instrument delivered to one of these schools. Please specify in the notes any special instructions including if student is starting lessons in the summer or fall.
We will then mail you a contract to sign and return.
We will contact your teacher to co-ordinate delivery to your school.
SOME QUESTIONS TO ASK WHEN RENTING YOUR CHILD A MUSICAL INSTRUMENT FOR THE SCHOOL BAND OR ORCHESTRA
1. Do I have a choice of renting a new or used instrument?
2. Do you have an educational representative who makes service calls to the school?
3. Do you have a repair shop right in your store to provide fast adjustments when needed?
4. Do you provide free loaner instruments if repair should take more than a few days?
5. Is your repairman a member of NAPBIRT, the National Association of Professional Band Instrument Repair Technicians?
6. Is your store a member of the National Association of Music Merchants, dedicated to providing superior service to schools and students?
7. Is the store owner a certified music educator, who has taught school children and understands their needs?
8. Are you franchised to sell high quality brand name instruments, with factory authorized service?
9. Do you sell new instruments at a discount of up to 50% or more off retail price?
TRUST the ONLY school music dealer that will answer YES to all these questions, and find out for yourself why TWIN VILLAGE MUSIC rents more instruments to school children than any other music store in Western New York.
SUPERIOR QUALITY, VALUE & SERVICE!